Sea Eagle 14' Sport Runabout Inflatable Boat Deluxe Package, 14SRK_D
Sold out
Original price
$2,699.00
-
Original price
$2,699.00
Free Shipping. No Sales Tax (besides NY).
Everything you need to go boating except the motor.
About the 14' Sport Runabout Inflatable Boat
The 14 ft. Sport Runabout is a favorite of larger groups as well as police and fire departments alike.
This rugged boat can carry up to 7 adults or 2000 lbs. Able to accommodate up to a 40 hp/15" shaft engine, this boat can really move!
*For optimal performance max horsepower motor rating for the inflatable drop stitch floor package is 25hp/15" shaft motor.
About the Sport Runabouts Series
The great advantage of these boats is their lightweight to size ratio. Which increases stow-ability and reduces overall hull weight. By nearly 25% with the inflatable drop stitch floors while reducing storage footprint by 50% because you no longer have to deal with wooden or aluminum floorboards. Making these boats truly practical as a tender, to carry in a RV or SUV or even simply stow below deck.
These tough, rugged inflatable boats feature your choice of high pressure rigid inflatable drop stitch floors - making them lighter, easier to setup, less expensive to motor and far more portable. While the rigid molded plastic floorboards are virtually unbreakable.
Sport Runabouts are great all around boats for fishing, skin-diving or just plain running about!
Specs
Person Capacity: 7
Hull Weight: 47 kg. (59 kg. with inflatable floor, 77 kg. with plastic floorboards)
Length: 427 cm
Beam: 182 cm
Interior: 292cm x 89cm
Load Capacity: 7 Adults or 907 kg
Deflated: Approx. 117cm x 66cm x 36cm (hull), 102cm x 80cm x 13cm (floorboards)
Chambers: 5 (port, starboard, bow, keel & DS floor)
Tube Diameter: 48 cm
Air Valves: 5 Recessed One Way
Inflation time: 25 min. (w/ inflatable floor), 35 min. (w/ floorboards)
Seam: Glued Quadruple Overlapped
Material: 1100 Decitex Reinforced
Engine Capacity: 25 hp (w/ inflatable floor), 40 hp (w/ plastic floorboards), 79 kg max weight, 38cm Shaft, Gas Engine
Floor: Inflatable Floor (11.3 kg), Plastic Floorboards (30 kg)
Speed Estimates: 25 hp (32 kph w/ 2 adults, 24 kph w/ 4 adults), 40 hp (48 kph w/ 2 adults, 40 kph w/ 4 adults)
Inflation Pressure: 3.2 psi
When deflated and packed well, this hull will fit in:
NMMA & CE Certified
5/8" grab line along sides for safety
4" Inflatable External Keel with Rubbing Strake for extra protection
Rounded rear pontoons for rapid planing
Splash Guards on transom
Built in oarlocks for easy rowing
Two stainless steel D-rings for towing
Four Carry handles
Front lifting handle
Oarlocks pop-up for instant use
Wide beam hull design for stability
Seaworthy In All Conditions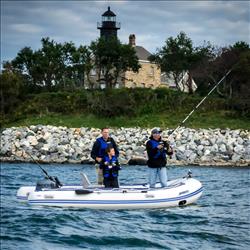 We have been selling Sea Eagle Sport Runabouts since 1997. Since then they have been tested in all sorts of conditions around the world. They have been taken around Long Island (300 miles each trip) multiple times in seas varying from dead flat calm to 10 - 12 foot ocean waves in violent thunder storms. They've been used on the Yangtze River and on the Indian continent for fire and flood rescue work. These same boats are being used in these same countries by Fire and Police Departments for flood and rescue work on lakes, rivers, bays and oceans. Truly tested by time in all kinds of weather conditions these boats are as safe and seaworthy as an inflatable boat can be made.
Patented Outside Drop Stitch Inflatable Keel, U.S. Patent- #8,286,573 2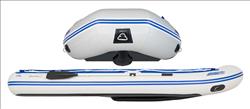 The outside drop stitch inflatable keel provides several unique performance benefits. First, it creates the ability to turn sharply and precisely in any direction. This is a true benefit when coming to a dock or motoring in crowed harbors. The inflatable drop stitch keel also provides extra buoyancy at the bow allow this boat to ride over waves rather than plowing through waves. This same feature in combination with large rear rounded tubes helps these transom boats get up on a plane far faster. Unlike other transom boats with an inside inflatable keel the overall performance of our Sea Eagle transom boats are far more precise, responsive, and stable in all sea conditions.
Molded Plastic Floorboards or Rigid High Pressure Inflatable Drop Stitch Floor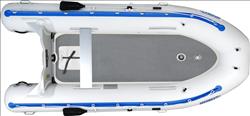 We offer two kinds of floorboards for our Sea Eagle Sport Runabouts each provide unique benefits. Our molded plastic floorboards are virtually unbreakable and will not be harmed by the sun, saltwater or other chemicals while provide tremendous structural strength for motoring and standing ability for anglers and yachtsmen.
Our high pressure rigid inflatable drop stitch floors provide excellent rigidity and very good structural strength at a fraction of the weight. If you use our drop stitch floor the weight saving in a 10.6sr is 31 lbs., in a 12.6sr 34 lbs., and in a 14sr 41 lbs. This is very important if you are a yacht owner looking for a super lightweight and easy to handle tender. This same feature is equally important to motorhome owners, fishermen and recreational boaters who want less weight and faster set up times.
Shipping

Price Match Guarantee
What are typical shipping & processing times for Sea Eagle?
Order processing time is 2-3 business days if the item is in stock.
Delivery takes 7-14 business days.
If a unit is not in stock, it will have a unique lead time depending on the SKU.
Once we receive your order, we will send you a confirmation email, and then we process the order by confirming it is in stock and ready for shipment. If any of the items in your order are backordered, we will reach out to you via e-mail or phone and you may choose to either wait or receive a 100% refund.
We work very hard to ensure that we offer the best prices online. If you find another legitimate online store that offers a lower prices on an identical item we stock (including shipping, tax, etc), we will match the competitor's price and provide superior customer service.
Please give us a call, email, or live chat with the price and link to the product.
**We DO NOT price match with large retailers such as Home Depot, Sams Club, Costco, Ebay, etc.**
**We will not match pricing on products being sold under Minimum Advertising Price guidelines**


Promotions such as rebates and buy one, get one free offer are not eligible

The item must be in stock on the competitors' website

The competitor must be an online store, they may not have a retail location

The website can not be a discounter or auction website (ie; eBay, overstock, etc..)

The competitor must be an Authorized Retailer of the product in question, and must not be violating advertising price agreements with the manufacturer

The Price Match Guarantee includes the item price and the shipping charges, it excludes sales tax
There may be brands excluded from that offer. Please contact us for further information.